Champions of Say: Mobilizing Local Knowledge to Prevent Violent Extremism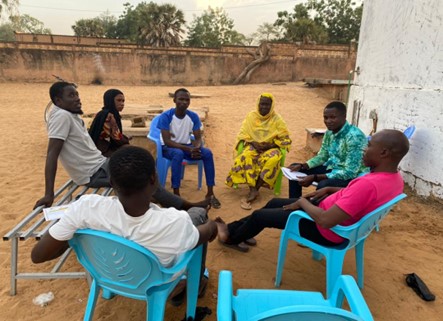 Champions of Say: Mobilising Local Knowledge to Prevent Violent Extremism
By  Mamane Tassiou Amadou, GCERF National Advisor in Niger and Sai Aashirvad Konda, Communications Associate 

On a quiet evening in the small town of Say in the Tillabéri region in Niger, a few members of the community gather in the sandy courtyard of the "Centre de Paix," a social gathering place for youth. They come to exchange with GCERF National Advisor in Niger, who is on a field visit, about the vital role of youth in local development, fighting against insecurity and preventing of violent extremism. 
This mixed group is also a curious combination of young and old people. It reunites 17 members from different backgrounds, men and women aged from 20 to 62.  In fact, they met in June 2022, as part of a group of 25 beneficiaries attending a training on preventing violent extremism organised in Say as a part of the "Projet d'Appui à l'Autonomisation des Jeunes et des Femmes les plus Vulnérables de la Région de Tillabéri", funded by GCERF. They were far away from imagining that this workshop would be the beginning of something special.
Located on the borders of Burkina Faso and Mali, the department of Say is hardly hit by violence and extremism, with the presence of terrorist groups such as the Islamic State in the Greater Sahara (IS-GS), al-Qaeda in the Islamic Maghreb (AQIM), and bandits operating in this so-called tri-border area. In recent years, devastating attacks on civilians, military, and government officials have resulted in numerous casualties and displacement in the area. The vulnerabilities of the Tillabéri region are being exploited by extremist groups, who take advantage of the lack of economic opportunities, high unemployment, inter-communal tensions between farmers and herders, and strained relations between youth and the military to gain support and draw youth into their fold. As a GCERF grantee, Association des Scouts du Niger (ASN), in consortium with three other local NGOs, is implementing a program in this region that addresses the root causes of radicalisation to prevent extremism before it takes root. Leadership training, ability to conduct community dialogue, and identifying signs of radicalisation are key components of this program. 
The workshop organised by ASN on June 4-6, 2022, trained community members considered at risk of radicalisation in PEV techniques and empowered them to become ambassadors for peace.
As a result, Salimata*, Ali*, Yayé* and 15 other beneficiaries who attended the training decided to stay in touch and formed a group they called " Champions de Say". "After the training, we convened that we should not stop here, that we should continue together for the sake of our community," Yayé told Mamane Tassiou Amadou, GCERF National Advisor in Niger. "The training allowed us to learn new things about preventing violent extremism that needed to be disseminated to be effective," added another group member.
Inspired by the knowledge and skills gained from the training, the group is making a difference in the community by putting their ideas into practice. While coordinating their activities on WhatsApp, members share their experiences and interest in local development. They engage with other community members in fighting against misinformation and preventing violent extremism in youth social spaces commonly known as "fada". At the end of each month, they also contribute money to undertake and/or support activities such as sanitation, helping group members in need, organising community dialogue and participatory theater sessions, etc.
In a short period, Champions de Say become an important force in their community. Indeed, the members of this composite group complement each other and have developed strong bonds that contribute to their success. The group has even developed an organigram with a president, secretary general and treasurer. Their reputation is attracting other members of the community who want to join their efforts to prevent violent extremism.
Now, the Champions de Say are determined to consolidate their gains and will submit to local authorities a request to be registered as a formal association, which, they expect, will allow them to expand their project and include income-generating activities.
A testimony of community power to mobilise, Champions de Say' achievements in preventing violent extremism illustrate their ingenuity and demonstrate community ownership of a GCERF-funded project that now has the potential to be sustainable and long-term.

* Names changed 
Image: Meeting between Champions de Say members and GCERF National Advisor in Niger, Mamane Tassiou Amadou, 23.01.2023.