Of new beginnings: Scaling economic opportunities for women through the Carol Bellamy WEAVE Fellowship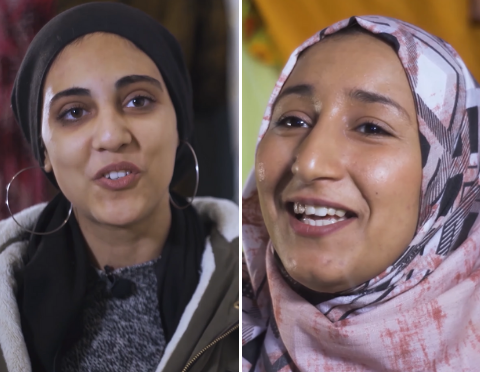 Of new beginnings: Scaling economic opportunities for women through the Carol Bellamy WEAVE Fellowship 
By Samhita Ayaluri (with inputs from Mourad Ennar)
Haïfa and Abir dropped out of school at a young age due to social and financial difficulties. Like other women in their neighbourhoods, they did not have much to do. While Haïfa tried to keep herself busy working informally as a dressmaker, Abir remained at home. They lived in neighbourhoods where high rates of delinquency and crime, radicalisation and recruitment into violent extremist groups were omni-present. "Violence in our city is our daily bread: domestic violence, robbery, school violence, illegal migration…, we have two options: to join this violence or to escape it," said Abir.  
A belief held by many, including these women, is that economic opportunities are exclusively available for the political and social elite. Haïfa and Abir had accepted their fate to be wrestling between the frustrations of a life with few job opportunities while trying to resist all forms of violence in their communities. As this is becoming a common context and a growing concern in Tunisia, the Global Community Engagement and Resilience Fund (GCERF) offered financial support, training, and business-related mentorship to 10 vulnerable women. These women were the beneficiaries of a GCERF-funded program run by Tunisia Plus and this additional support helped the women break out of this dichotomy.  
The Carol Bellamy Women Entrepreneurs Against Violent Extremism (WEAVE) fellowship recognises women as change agents and is named after GCERF's founding Chair of the Governing Board. Following the Start and Improve Your Business Programme developed by the International Labour Organization, the WEAVE fellowship supports start-ups and social entrepreneurship projects led by women. This support has equipped women with the tools to build their own economic opportunities and flourish.  "I know where I need to go, but I didn't know how, thanks to this training I now have the answer," said a fellow upon receiving the award.  
Today, Haïfa is working on her dress catalogues and progressing on diversifying her dressmaking portfolio. "This project opened new doors and [showed] new hope for me and my family. I now have an objective in life that can help me to be more resilient to confront any trap of violent extremism," said Haïfa. Following a similar path, Abir began from scratch and learned how to evaluate production costs, source fabrics, how to identify and deal with customers, and on how to sell her tailored-made clothes. "I now get orders from the merchants in the souks (popular markets)," Abir happily shared. She added that in the future she would "[put in] all the effort to make her small business a success to help [herself], her family, and other youth from her community regain trust and confidence in a better future."  
Another fellowship recipient Siwar has become a dressmaker who capitalised on technology and sells her dresses online.  Chaima makes and delivers pastries and cakes to customers at tea rooms and plans to open a big pastry shop. Irrespective of the level of formal education they have had, Haïfa, Abir, Siwar, Chaima, and six other women between the ages of 19 and 29 have benefitted from the WEAVE fellowship, equipped with new skills and opportunities to begin again. 
To learn more about our fellowship winners in Tunisia, watch our video.