Safe Spaces in Kenya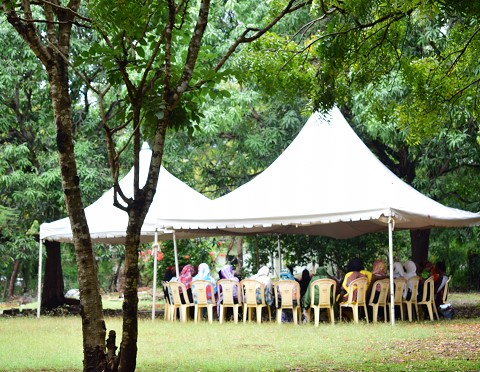 When the woman woke up, she was in an unfamiliar setting, deep in the forest. The last recollection she had was accepting a soft drink.
This is a story that the Coast Interfaith Council of Clerics Trust (CICC Trust), a GCERF-funded NGO in Kenya, has heard countless times. It is how women are promised jobs, drugged and taken to terrain where suspected Al-Shabaab militants are known to hide.
"When they wake up, they are in bushes. They have been very badly assaulted, mostly sexually," says Rhoda*, a member of staff for the organisation, who requested anonymity for her safety. The Mombasa-based NGO runs safe spaces for 60 women impacted by violent extremism. "For those who found themselves in camps, they report to us that they weren't forced to take a drink but somebody they know offered soda, just nicely."
In the coast region of Kenya, violent extremism touches the whole community. The region has high rates of youth unemployment, unresolved land disputes as well as other historical injustices and hosts an ethnically diverse population. Increasingly, religion, says Rhoda, is used as a motivating factor for violent action.
"Religion is not questionable and many people are religiously illiterate. So when someone uses certain verses and stories from their faith to justify certain perceptions, it becomes difficult to question," she says. "The result is that some of these texts that are being used are being used out of context."
Violent extremists in Lamu and Mombasa, where CICC Trust runs the safe spaces, use narratives that play into the hardships many are experiencing. They point out failed systems and structures and say, if you are oppressed, you have to fight back or that it is a religious duty to wage war.
For women, says Rhoda, it's the promise of jobs that motivates them. While some women are kidnapped and taken by Al-Shabaab, others are tricked into travel with the lure of well-paying jobs as domestic workers in the Arab world by extremist groups posing as job agencies. These women can end up in Somalia with Al-Shabaab or most recently, in Syria with ISIS.
As numbers of such cases increased, CICC Trust saw a need to dedicate programming to women who have either directly experienced recruitment by violent extremists or have lost a husband or son to violent extremism. This includes women with immediate family members known to have been radicalised but who are still missing.
"The trauma – from our initial experience – was so great that some women were even suicidal," says Rhoda. "Their trauma was so much that they felt the pain was too much to bear. They could not even cry."
Women also developed physical health complications as a result of their mental distress. CICC Trust saw cases of high blood pressure and diabetes.
In many cases, women who had survived abuse or were grieving the loss of a loved one, had their pain compounded by an aggressive form of social isolation. In-laws, who often live in shared communal housing, would blame the women for not intervening to prevent their son or husband's radicalisation, disappearance or death. The family would harass the women for information they did not have. Security agents would start circling too.
"Once the community knows that there is someone missing from such a home, there is a lot of gossip. They really avoid that person and if they have a business, they will not buy from them," says Rhoda. The stigma is serious and can result in a complete loss of livelihood for the woman and her dependents.
CICC Trust contracted counsellors to provide regular psychosocial care in both individual and group settings. They also employed religious leaders to help demystify some of narratives the women had been told. The safe spaces are intended to be the starting place for the women, aged 18 to 60, to heal.
Then they are linked up to other support services as the women remain economically vulnerable, which can lead to exploitation.
"My hope for them is that they will let go of what happened – that they accept that it happened and it can't be changed and they pick up the pieces and move on," says Rhoda. "I know it is very difficult, especially for somebody who has not seen their son for nine years, or those who have witnessed their loved ones being killed before their own eyes.
"I hope that they take the same help we have offered them and they reach out to other women who are going through the same."
GCERF has funded the Coast Interfaith Council of Clerics Trust since 2018.
*Not her real name