Rediscovering Childhood in Albania After Camps in Syria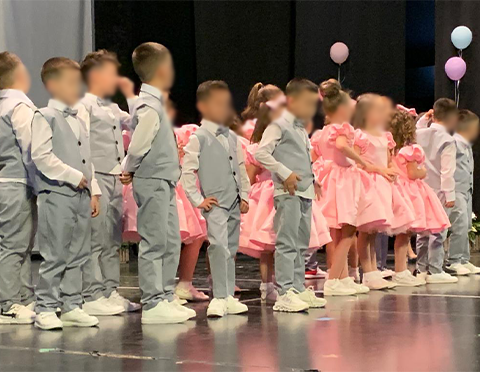 The little girl in frilly white socks speaks confidently into the microphone as her classmates stand behind her on stage. 
At the concert to mark children's day in a small city outside Tirana, Albania, there was nothing to mark the 6 year-old out from her peers as they danced to bright music in the school auditorium. 
But to the teachers and support workers who knew her personal circumstances, it was a moment of particular pride. Just over a year ago, the girl had been in a camp for families of foreign fighters in Al Hol, Syria. She had been born to an Albanian mother, speaking Arabic as her mother tongue. 
"To see, myself, how far the children have come – from arriving in Albania to a year later – is very gratifying," says Sindi Shahu, Project Assistant for the GCERF-funded NGO, Counselling Line for Women and Girls. 
The local organisation, along with two other GCERF grant recipients, Terre Des Hommes and the Institute for Democracy and Mediation, provides services for returnees, covering housing, educational and medical needs to facilitate a smooth transition back into Albanian society.  
In August, Albania received its second caseload of mother and child returnees from Syria. The first arrived in the autumn of 2020 and more are expected. The Coordination Center for Countering Violent Extremism manages the overall response, liaising between government, security actors and social services. 
Each return triggers a unique response.  
"Everything starts with an evaluation of their needs. So for each child, there is an individual protection and reintegration plan developed," says Blerta Mano, Programme Manager at Terre Des Hommes.   
Some children are stateless, coming to Albania for the first time. Others return in their teens having witnessed violence, with large gaps in their education. Some have not had access to routine vaccinations or arrive unaccompanied.  
"Of course the experience is not easy. Children and their mothers come with a lot of trauma," says Ms Mano. The process of adapting itself can set off a new trauma, she says. 
To minimise hardship, care is taken to keep details of the lives they led in Syria confidential.  
The Head of Child Protection in the Municipality of Tirana, Jonita Kabashi, who leads case management, has witnessed transformations in the people who returned a year ago. 
"Now they have identity. Now they have medical care. Now they have safe accommodation," Ms Kabashi says.  
As the concert, small group of girls return to stage to dance in traditional costume, waving handkerchiefs to a crowd of parents clapping in time. 
"They can enjoy their childhood," Ms Kabashi says.