Bangladesh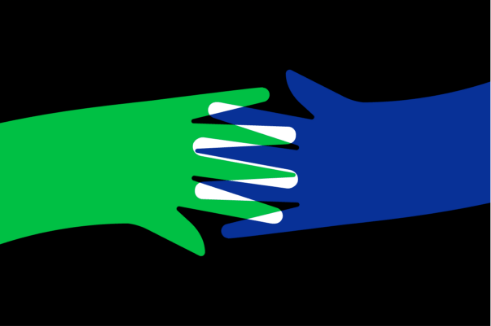 Artist Sahan Islam,* 25, never imagined that he would be celebrated among his peers at Dhaka University.
The Masters of Fine Arts student in the department of drawing, had never felt completely at home in his own skin.
The art camp, funded by GCERF, was an opportunity to change that. His acrylic painting of a sombre figure against a backdrop of peacock feathers won first place in an art prize open to 180 participants, across seven different institutes in Bangladesh.
In a closed-door discussion, Sahan, who was made to feel different since early childhood, revealed to GCERF why the participating in the competition was such a personal milestone.

Dhaka University student, Sahan Islam's prize-winning artwork is acrylic and charcoal on canvas
"I was quite normal and okay until I [was] a toddler," he said. But at the age of six, he was molested by a family member and both his self-perception and his treatment by others changed.
"I was so cute that everyone stared at me and thought that I [was] a girl. From a young age, I started to understand that I [was] not a typical person. I [was] different."
From that time on, pressure mounted on him to abide by a societal standard. His mother would recount to him the complaints of neighbours and relatives and let him know that it was him who should change.
By the time Sahan was a teen, he felt like his only ally was his older sister and even she would encourage him to change his mode of dress to look more masculine, against his will. Sahan began to withdraw as a way to shield himself from "the common crowd" and its ceaseless commentary.
Through the art camp, which worked on different sexual orientation, Sahan found a voice. "I found people who are like me."
It was the first time Sahan ever had a platform to express his identity. When he won the prize for best painting, he said he felt his status change in his social circle.
"Earlier, I was always undermined, laughed at and ridiculed by my friends and was not valued as a classmate," he said.
He explained his winning artwork. The depiction of a person with two faces, one male and one female, shows his intersexuality. The cuckoo bird in the person's throat represents the feminine voice for which he has long been ridiculed. The peacock, with its open tail and eyes on each of its feathers, symbolises the close surveillance of friends, neighbours and relatives, that never allowed him to feel like a coherent person.
As he was painting, Sahan said he grew more confident. His classmates would ask what he was trying to draw and as he built brushstroke upon brushstroke, he was able to answer: "I draw myself. The way you treat me and the way you think of me."
The resulting painting featured among 91 artworks which hung in an exhibition in Dhaka Jainul Gallery earlier this year.
*A pseudonym has been provided to protect the participant's identity.