Press Release: Enhancing Cooperation Key to Preventing Extremism, Achieving Peace in the Sahel Region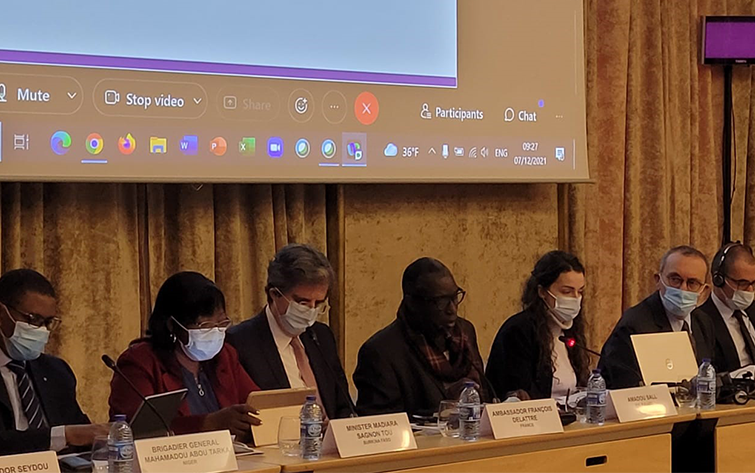 Enhancing Cooperation Key to Preventing Extremism, Achieving Peace in the Sahel Region
Paris, France, 7 December, 2021 – The Global Community Engagement and Resilience Fund (GCERF) together with the French Ministry for Europe and Foreign Affairs and the Executive Secretary of G5 Sahel held a panel discussion today on the responses to rising challenges of violent extremism in the Sahel region.
The high-level panel discussed the evolving threat of violent extremism including new and evolving challenges and ripple effects of the Taliban takeover on the Sahel.
"The rise of violent extremism is clearly a challenge for the Sahel," stated Ambassador Francois DELATTRE, Secretary General for the French Ministry for Europe and Foreign Affairs. He continued that France's military operations have "led us to realise that our response to the terrorist threat, to be truly effective, must necessarily be collective and global."
Representatives from the international, regional, and community levels reiterated the importance of enhancing cooperation in building sustainable resilience to extremism.
"The challenges we face are global, and cooperation and collaboration is the only choice. We need actions that are ambitious which support and accompany local partners and thus we will contribute to strengthening the trust between the State and population," stated Mr Amadou SALL, Coordinator of the G5 Sahel Regional Radicalisation Prevention Cell.
The panel called for an increased investment from the public and private sectors in community-led prevention efforts. Interventions from panelists reiterated the importance of a regional approach which is meaningful and sustainable.
GCERF's Executive Director, Dr Khalid KOSER stated that, "this multi-stakeholder collaboration is an exemplary model materialising as tangible support to people on the ground, to vulnerable communities and to populations, all with close coordination with local, national, and regional authorities".
The event culminated with the signing of two grants which are part of GCERF's contribution of USD 5.2 million to partner organisations in the region. Through these grants, UFC Dori in Burkina Faso will work building resilience and socio-economic integration of vulnerable populations and Think Peace Mali will support the reintegration of ex-combatants, prisoners, and armed community members.
National Coordinator for Think Peace, Mr Abdoul Kassim FOMBA, concluded stating that the "response to security and justice issues must involve a comprehensive approach which includes social and economic services. This is how we will build resilience."
Media Contact
Eileen Palmer, Communications Specialist, GCERF, Geneva, Switzerland +41 79 704 8783 or media@gcerf.org