Meet Our Team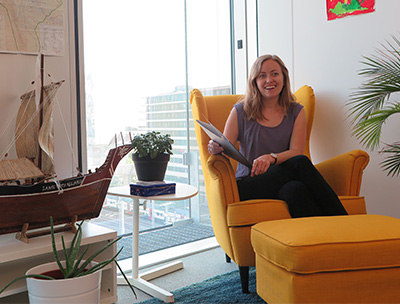 What can the private sector do to prevent violent extremism?  
That's a question that Kristen O'Connell, GCERF's lead on private sector partnerships, has been asked on repeat since she started developing the role three years ago. The answer includes through economic empowerment, skills and vocational training, in-kind and financial contributions – to name a few.  
More and more, however, Kristen has been asked a new question: how can we explain this to the private sector? 
During a recent virtual event, GCERF's grantees and three private sector representatives from its Governing Board answered this question. Organised through GCERF's global capacity-building event series, developed to address grantee needs during the COVID-19 pandemic, this event focused on the crucial differences between engaging a private sector audience versus the public sector. 
"Our role at GCERF is to enable grantees to form their own partnerships, rather than us do it for them," Kristen said. "It's much more important, particularly as our grants mature." 
This corresponds with GCERF's approach of empowering local actors to take the lead on building peace in their communities.  

As GCERF develops its strategy on private sector partnerships, Kristen will continue to focus on the capacity-building of grantees as a key element of this. "It's clear that our role is as facilitator, to encourage and enable our local community partners to develop relationships with companies and businesses operating near them. It is the grantees who can speak about the local context and the impact that their projects have. They are the best ones to sell it," she said. 
Kristen's role as Partnerships and Governance Coordinator at GCERF builds on her previous experience working for global financial services company, where part of her role was to make complex financial concepts digestible. She left the post in New York to pursue her MA in International Peace Studies in Dublin.  
Here, she shares five key tips for engaging the private sector:
 

Strike a balance between emotion and data

 – people connect through stories, but a company will invest in an organisation it believes is well-organised and results-oriented.

 



Invest in the relationship

 – private sector partnerships require a lot of attention and are reliant upon person-to-person relationship management.

 



Know your target

 – research them, their business, their investment; they 

will

notice if you don't make a thoughtful effort to connect your work to theirs. 



Speak their language

 – use terminology your audience will understand (adapt to their terminology) and approach a meeting with the assumption that they aren't familiar with the local context.

 



Use business logic

 – the partnership may not earn a company money, but it will reduce negatives and increase positives in their operating business environment.