Lifting Basic Education and Expectations of Good Governance in the Philippines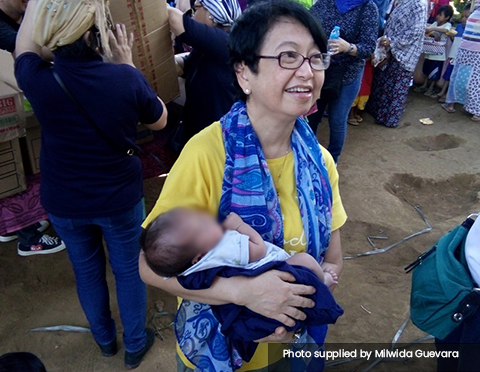 Lifting Basic Education and Expectations of Good Governance in the Philippines
By Yuko Narushima and Sai Aashirvad Konda
To follow Milwida Guevara's career, through primary school teaching, federal politics in the Philippines and as an economist for the UN, is to inch ever closer the people she set off to help.
Working in Mindanao for the last 18 years, Guevara saw first-hand how poverty undercuts a person's potential. Today, only 40 per cent of grade 1 children in Muslim Mindanao make it to grade 6, a statistic she says keeps people poor and makes them vulnerable to recruitment by extremist groups.
Guevara, a Christian guided foremost by the principle of equity, worked hard to earn her place. She trained in public finance and rose to the position of Deputy Minister of Finance in the Philippines before working as a Fiscal Advisor for the International Monetary Fund.
Now, she is an advocate for children's education and heads Synergeia, a GCERF grant recipient in the Philippines. Synergeia is an NGO that functions as a social movement, awarding municipalities with "seals of good education governance" and spreading the message that all people deserve elected representatives who act in their best interests.
"Instead of working to transform the country, we work to transform communities one by one," she said. "I really think there is more meaning in working directly with communities than working with policies."
This is a conclusion that Guevara, a Ford Foundation scholar, came to via an impressive career that hit a turning point upon entering government. It was there, that Guevara – a self-proclaimed woman "from the provinces" where people are expected to be "meek, gentle and scared" – took on a suspected tax evader who was alleged to have defrauded the government of 25 billion pesos (USD500,000).
She would front up before senators and congressmen, who, rather than support the case for accountability, would join in her harassment. Undeterred, Guevara grew more determined to advocate for the powerless and flip what she had learned about public finance on its head.
"From that time on, I said I would only be guided by doing what is right, even if I get killed," she said. "Now I feel that the goal of public finance is to redistribute wealth so that the rich will not get richer and the poor will have more, in terms of opportunities."
The experience led Guevara, a former grade three teacher, to develop the concept of Synergeia which was founded 18 years ago  by a group of like-minded individuals with a Jesuit as chair. Rather than create a single NGO devoted to education, they worked together to build a model that could be scaled to create widespread change by convincing grassroots communities that they could be represented by officials that truly cared about local issues.
"One of the reasons why people are oppressed and people do not get their rights is because they do not express their anger," she said.
She jokes that Synergeia is like a McDonalds. One town hall meeting at a time, the Synergeia network franchises good governance. "We develop the menu, provide the manuals, give them a little capital and train them to do a hamburger…We will hold their hands and we will be there and prescribe our standards."
Guevara particularly enjoys working with local leaders and sees their will to drive basic education as the secret to creating long lasting peace.
"They're pliable. They're influential. They're idealistic," she said. Having worked directly now with 426 mayors, Synergeia boasts a cohort survival rate of 90 per cent, nearly stamping out primary school dropouts in some of the country's most underserved communities.
So now, Guevara is back to her roots. She recently conducted a virtual training to impart some of the methods she found useful in making learning interesting for primary school students. She was almost brought to tears when she played back the recording to find 80 teachers sharing just one computer screen to log on and hear her advice.
Recalling that moment, she chokes up. "That really tore my heart," she said. "I cannot imagine teachers not being trained and not having equipment and students having teachers that haven't been trained."
The lack of resources for teachers has a direct impact on peace. According to Guevara, the pull to extremism is driven by a sense of injustice and the perception that "justice is only for the wealthy".
"The best approach is really to make people feel that they're strong, that they can help themselves," she said. And this, she says, must start young.
"You cannot really tell children, 'You have to dream big and you have to study very well because they are in extreme poverty.' So our workshops are very cathartic. We ask them to draw their hearts and we ask them to draw their dreams.
"We tell them, do not forget your dream. Keep your drawing and look at it every day. Even if you're hungry, even if you're running away because there are skirmishes in your community… With your parents' help and with your teachers' help and with our help, you will achieve your dreams."