Recognising Radicalisation in Bangladesh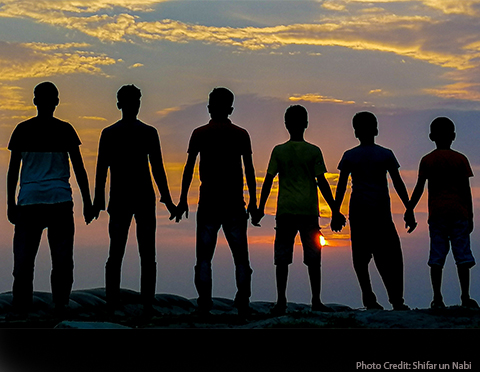 Even during the pandemic, Arizul,* 18, and his friends Khairul,* Sohel* and Razu* regularly attended the local mosque in Khulna City Corporation, Bangladesh, to pray.
The devout young man felt inspired there and was growing closer to his friends.
Arizul, a college student, was becoming more and more convinced of his friends' perspective that the government was favouring "non-believers" over Muslims. By the time Arizul learned that they belonged to the home-grown violent extremist group banned by the government, Allah'r Dal, he was convinced that jihad was the only way to end the perceived degradation of Muslims.
"We believed that this pandemic had been a gift from Allah for the destruction of kaffirs [non-believers]. This pandemic will not touch any mumin [believer]," he said.
Arizul stayed in touch with his friends via a protected text platform and began withdrawing from his other friends.
"I was growing an 'us versus them' mentality. My inner beliefs were changing gradually in favour of their logic and the company of my other friends and family did not give me much comfort," he said.
It was these changes that caught the attention of his classmate, Sirajul*. Sirajul belonged to a GCERF-funded peace club organised by the NGO, Rupantar. From his experiences learning about propaganda and the emergence of violent incidents through the club, he knew that his childhood friend's irregular behavior could be a sign of radicalisation. The peace clubs host cultural, sporting and inter-faith activities aimed at bringing diverse groups together and improving social cohesion.
"Realising Arizul's unusual avoidance, isolation and unfamiliar belief system, I introduced him to some other friends at peace club," Sirajul said.
They talked to Arizul several times, and also spoke to his parents and the elected representative of the area. They discussed the need for tolerance and pluralism in society as well as the susceptibility of youth to recruitment by violent extremist groups.
Slowly, Arizul regained a sense of skepticism and began critically analysing his situation. He stopped communicating with the trio involved with Allah'r Dal and by July, the elite arm of the police, the Rapid Action Battalion, had arrested Sohel, Khairul, and Razu on suspicion of supporting militancy.
Now, Arizul is grateful to the members of the peace club for intervening in his process of radicalisation.
"Initially, I wasn't interested in hearing them but after several conversations, I came to realise that I was walking on the wrong path," Arizul said.
He is now interested in conducting social activities for other peace club members.
GCERF has been funding Rupantar since July, 2016.
*Not their real names