"This is the first time I see hope": Healing in the prisons of Mali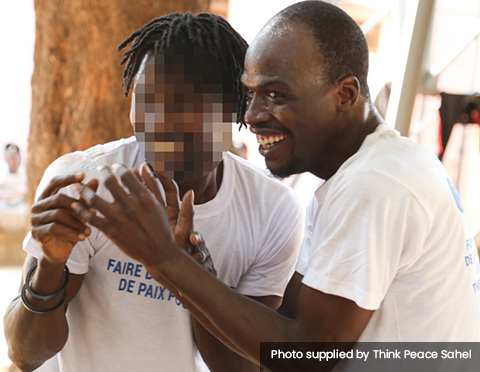 "This is the first time I see hope": Healing in the prisons of Mali
By Sai Aashirvad Konda and Yuko Narushima
Seeing Ousmane Koné dance, controlling his movements with the grace of a bird, there's little to hint at the hardship the 29 year-old has overcome.
Now, a professional dancer training inmates at the Bamako Central Prison in Mali, he draws on his past to encourage a new crop of artists.
Like many of the prisoners, Koné was living on the streets. At 13, he had left a difficult homelife and spent the subsequent 10 years feeling lost – sheltered in a home for talented children but never quite finding his place. Eventually, he was jailed for possession of cannabis.
But for Koné, prison was a new beginning. He reawakened his love of dance through a programme delivered by the local NGO, Think Peace Sahel, which GCERF now funds to teach creative arts to prevent violent extremism and aid rehabilitation.
Dr Lilla Schumicky-Logan, Head of Portfolio Management at GCERF, and Moctar Kané, GCERF's Country Manager for Sahel and Somalia met Koné on a recent visit to two prisons in Mali where GCERF funds programming.
Dr Schumicky-Logan said many inmates had experienced homelessness. "When they come out they have nowhere to go back except to be on the streets,"  she said.
Assessments show that prisoners out of jail without a strong network, family or a job are highly vulnerable to be involved in illegal activities. Extremists, living in cramped conditions alongside petty criminals, can exploit these vulnerabilities and use prisons as a place to recruit, she said.
As a part of the GCERF-funded programme, interested prisoners are engaged in activities such as dancing, singing, painting, storytelling and poetry to heal trauma, encourage self-expression.
Not only does this allow inmates to identify new areas of self-growth, the programme improves the mental health of inmates and provides life-long skills, said Dr. Schumicky-Logan. "If mentored well, these skills can become a source of income," said Kané.
According to one programme participant, who asked not to be identified: "This is the first time I see hope."
For Koné, he now has the confidence and skills to continue as performance artists upon successful completion of his parole period. With the support of Think Peace, he has already established a business called "bôlon-tièn," meaning the "reality of the street," to train other young people interested in making a career in the creative arts.
"It is inspirational for the inmates to see that someone who was among them makes a living and comes back to train them," said Dr. Schumicky-Logan. Or as Koné himself says, inmates can find an activity that can become a "source of emancipation."
GCERF has been funding Think Peace since March 2020 to build community resilience to violent extremism. 

Image: Ousmane Koné (pictured on right) at a training session for inmates of Bamako Central Prison in July 2021